Palawan is one of the best islands in the world. It is not a baseless claim and if we talk about the diversity of life both above and underwater and couple it with beautiful fun-loving people, Palawan would easily beat all the places on the list.
---
How to get there:
The quickest and easiest way to get to Palawan is to take a 1.5-hour flight to Puerto Princesa from Manila. If you want to go on to El Niño there is a 5-6 hour shuttle ride in a minibus (if you prefer private travel a limited car rental service is available). Princesa Airport also has direct flights from Cebu, Iloilo, Clark, and Davao. Other interesting alternatives for El Nido are direct flights there from Manila, Cebu and Boracay Caticlan, but the flights tend to cost substantially more than flying to Princesa. Finally, for the 'Titanic' romantic and adventurous traveler (no sinking involved) keen to experience a unique approach, book a flight to Coron-Busuanga Airport (USU) and continue the journey by sea by ferry direct to El Nido.
The only airline that flies from Puerto Princesa to Lio Airport El Nido is AirSWIFT. Lio Airport was reopened in 2015 and is only a 25-minute ride to the town and is the easiest access to El Nido from Puerto Princesa and Manila.
Always book the earliest flight going to Puerto Princesa and the last flight going back to Manila. This will help you maximize your stay. 
---
Places to Visit
1. Explore Puerto Princesa Underground River
How to get there: From Puerto Princesa city center, go to the San Jose Bus Terminal and take a bus to Sabang (for DIY). Travel time takes 1.5 to 2 hours. From Sabang, ride a boat going to the underground river. Travel time takes only 20 minutes.
Things to do:
✔️ You can opt to stay overnight in Sabang and explore the place a day before the underground tour
✔️ You can also hike from Sabang to the underground river. It is only 3.5 km away.
✔️ You need to book a permit a day before because there are only limited tour slots
✔️ You can see a lot of monkeys, lizards, and other wildlife in the area
✔️ Explore the 8.7 km underground river (the 2nd longest navigable underground river in the world)
2. Ugong Rock Adventures
How to get there: It can be a side trip after your Puerto Princesa underground river tour. Ugong Rock is located between Sabang and city center so it is definitely not out of the way. You can either go here before or after your river and cave tour.
Things to do:
✔️ Spelunking
✔️ Zipline your way to the ground from the view deck of the cave
3. Visit Port Barton
How to get there: Port Barton is accessible from Puerto Princesa and El Nido. Travel time is between 3-4 hours (from PP) and 4-5 hours (from El Nido).
Things to do:
✔️ Beach bumming
✔️ Kayaking
✔️ Exploring local lifestyle
✔️Off-the-grid experience (No ATMs and no electricity)
4. Visit the Tabon Caves
How to get there: From Puerto Princesa, take the bus or van at the terminal and head to Quezon. Travel time is 2-3 hours. From Quezon, go to the pier and ride a boat going to the Lipuun Point. Travel time is 30-40 minutes.
Things to do:
✔️ Explore the cave where Tabon man (one of the oldest human inhabitants) was found complete with all the artifacts
✔️ Read historical information found inside the cave
5.  Honda Bay Island Hopping Tours
How to get there: From your hotel just hire a tricycle or a local transport to take you to the Honday Bay Wharf. Travel time is 30 minutes.
Things to do:
✔️ Island-hopping
✔️ Dolphin and whale watching
✔️ Snorkeling
6. Bakers Hill and Mitra's Ranch
How to get there: Bakers Hill and Mitra's Ranch are adjacent to one another. From your hotel, you can just hire local transport to take you to the place. Travel time is 20 minutes from the city center.
Things to do:
✔️ Food trip (try their seafood buffet, hopia and pastillas)
✔️ Marvel at the beautiful peacocks roaming around
✔️ a lot of pictures of animals at Mitra's Ranch
✔️ Enjoy the views
7. Tickle your palate with Palawan's Delicacy
Where to go: There are many restaurants in Palawan that serve exotic delicacies but the best ones are along Rizal Avenue.
Things to try:
✔️ Tamilok: A type of mollusk that looks like a worm typically found inside mangrove trees. It is slimy and typically eaten raw with vinegar and chili.
✔️ Crocodile Sisig: Crocodile meat is cooked with other spices and served on a sizzling plate with lime, raw/fried egg, pepper, and onions.
✔️ Danggit Lamayo: It is similar to the famous Cebu's danggit but it is marinated first in a special sauce before it is fried.
8. Scuba Diving in El Nido
How to get there: El Nido can be accessed from Puerto Princesa via land transport. Travel time is 5 hours but for those with money to spare, they can fly directly to El Nido from Manila.
Things to do:
✔️ Explore the underwater tunnel which is 12 meters long and is teeming with life
✔️ Dive to a depth of 50 meters to see the underwater cliff
9. Island-hopping in El Nido
How to get there: Once in El Nido town proper, there are boats that can be rented anywhere on the island for island hopping tours. Since this tour is hugely popular, consider booking a private tour as part of a Palawan package if you can afford that. Private tours leave earlier so you'll get to have all the beautiful places all to yourself.
Things to do:
✔️ Explore numerous islands like Matinloc, Miniloc, Lagen, 7 commandos Beach, Helicopter Island, Shimizu Island, Big Lagoon, Small Lagoon and Secret Beach.
✔️ Snorkeling
✔️ Paddle-boarding and canoeing
10. Beach-bumming in El Nido
✔️ El Nido has numerous islands and so you have all the options in your hands to choose which ones you like the most
✔️ Laze around on a sandbar
✔️ Enjoy the views surrounding the secret beach
11. Live Aboard a Dive Boat and Explore Tubbataha Reef Marine Park
How to get there: Tubbataha Reef is far from the mainland and only accessible for 3 months each year. From Puerto Princesa, boats will be waiting at the pier and the travel time takes 10 hours at least. Boats leave at night usually.
Things to do:
✔️ Scuba diving
✔️ Snorkeling
✔️ Swimming (fishing is prohibited as the area is a protected site)
12. Chase Estrella Waterfalls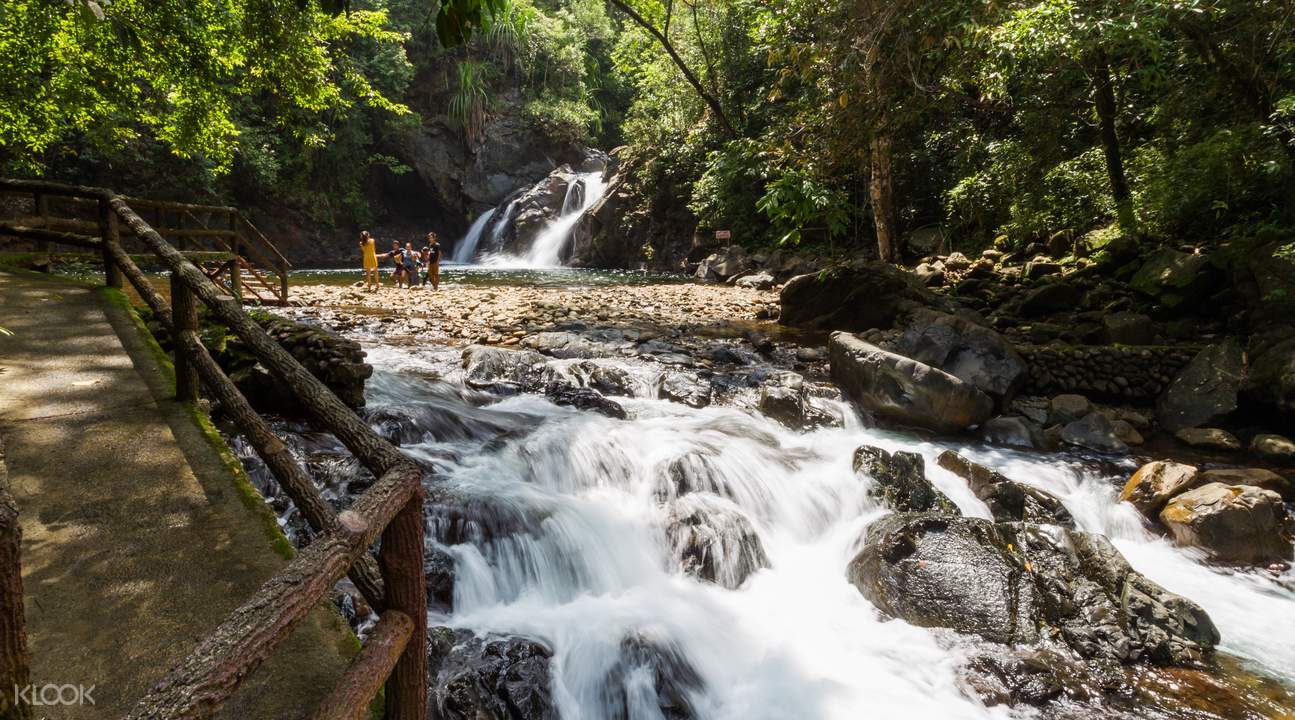 How to get there: Estrella Waterfalls is located in Narra, Palawan which is 2-3 hours away from Puerto Princesa.
Things to do:
✔️ Picnic with friends and family
✔️ Swimming
✔️ Wildlife sighting
13. Enjoy the sands of the longest beach in the country in San Vicente
How to get there: The 14km long beach in San Vicente, Palawan is 3 hours away from Puerto Princesa. It can be reached with a van from the San Jose Terminal.
Things to do:
✔️ Beach-bumming and relaxation
✔️ Enjoy the beautiful sunset
14. Shop for Pearls
Anywhere in Puerto Princesa and El Nido, you will find someone selling pearls. The price is very low because clams and oysters are abundant in the province.
15. Firefly Watching
How to do it: There are transports picking up tourists and passengers from their hotels but if you want to DIY you can hire local transport and go to Iwahig River center. From the center, you will be transferred to a paddle boat.
Things to do:
✔️ Watching fireflies from the boat while cruising silently along the mangrove forest
✔️ You can also rent a kayak
✔️ Dinner is usually served before the tour
16. Wreck-diving in Coron
How to get there: Coron is only accessible either by flight or by boat. There is a direct flight to Busuanga from Manila, Cebu, El Nido and Puerto Princesa. There are also available ferries from El Nido to Coron. Travel time by ferry is 3-4 hours.
Things to do:
✔️ Explore the undersea wonders of the Coron Bay and swim through the shipwrecks scattered on the seafloor.
17. Kayak along the twin Lagoons
The twin lagoons are usually part of the tours so it is best to include it in your itinerary along with other tourist spots in the area to maximize value for money.
18. Visit animal sanctuary in Calauit
The animal sanctuary known as Calauit safari can be accessed either by boat or by land transfer. Travel time is 3 hours by land. It is similar to the African safari but without the lions.
19. Hike Mount Tapyas
Mount Tapyas is 210 meters high and to get to the summit, one needs to go through the town of Coron and then to the Poblacion there is a basketball court where the hike starts off. There are more than 700 concrete steps to the summit.
20. Marvel at the beauty of Kayangan Lake
Also part of the tours in Coron, Kayangan Lake is the cleanest lake in the country. Things to do there include Kayaking, swimming, and snorkeling.
---
Where to stay in Palawan
Best Budget Hotels in Palawan
  COMPARE PALAWAN ACCOMMODATIONS


Tapik Beach Park Guest House
From around Php 250
⬇️ Compare prices here ⬇️

Amos Hostel El Nido
From Around Php 270
⬇️ Compare prices here ⬇️

 
Dormitels PH El Nido
From around Php 300
⬇️ Compare prices here ⬇️

Spin Designer Hostel – El Nido
From around Php 700
⬇️ Compare prices here ⬇️
Top Hotels in Palawan
  COMPARE PALAWAN ACCOMMODATIONS


Matinloc Resort
From around Php 18,000
⬇️ Compare prices here ⬇️

Pukka Beach
From Around Php 3,000
⬇️ Compare prices here ⬇️

 
El Nido Resorts – Pangulasian Island
From around Php 33,000
⬇️ Compare prices here ⬇️

El Nido Resorts Miniloc Island
From around Php 25,000
⬇️ Compare prices here ⬇️

---
---
STAY IN TOUCH WITH OUR WORLD OF ADVENTURES BY CHECKING OUT:

---